FRANKE T-GLASS RAY 60CM CURVED CHIMNEY COOKER HOOD FGC 625 XS NP - STAINLESS STEEL/GLASS
Flexible repayment options available
Choose weekly, fortnightly, every four weeks or monthly
Flexible repayment options available. Choose weekly, fortnightly, every four weeks or monthly  >> Click Here to APPLY   When you qualify for Finance, you can choose to pay your balance off in 4 months, over the full term, or call up and make early repayments. Whether you spread the cost over 4 or 36 months, you're in control. Pay in 4 - Should you pay off your balance in 4 months, any interest you owe* will be cancelled . *Interest is charged from the day your loan starts and will only be cancelled if you pay off the amount of credit advanced within the Pay in 4 Period. Minimum  Requirement 

Minimum 18 years old
Active current account that can accept Direct Debits
£200 weekly income
Resident in UK Valid Debit or Credit Card

Representative Example: Cost of Goods £1200, Deposit £50, Amount of Credit £1,150, Annual Fixed Interest Rate 34.04%, Monthly Payment £51.75, Term 36 months, Total Payable £1913.00, Representative 39.9% APR. Contact us

Email sales@conway.tv

Address 3 Park Ave, Cookstown BT80 8AH
3 Speed Settings
Push button control
Wall Installation
2 Year Guarantee

This timeless curved glass and stainless steel design is a perfect combination of great looks and great value, making it a versatile addition to any kitchen.

With a width of 600mm and a wall installation type, this T-Shape stainless steel and glass hood comes with a 2-year guarantee for your peace of mind.

Featuring 3-speed settings and an intensive mode, this hood offers flexible and efficient ventilation to suit your cooking needs. With an energy efficiency class B, it offers reliable performance while saving energy.

This hood has an internal capacity of 700 m3/h and a maximum capacity of 620 m3/h, ensuring that even the most intense cooking sessions are efficiently ventilated. The minimum capacity is 300 m3/h, which is perfect for lower intensity cooking sessions.

The noise level of this hood is DIN EN 60704-3 Int. 71 dB(A), DIN EN 60704-3 Max. 69 dB(A), and DIN EN 60704-3 Min. 53 dB(A), ensuring quiet operation and minimal disturbance while cooking.

The push-button controls of this hood are user-friendly, making it easy to adjust the fan speed to your preference. The outlet tube diameter is 150mm, and the charcoal filter is not included.

With a voltage of 220-240V, this hood is a reliable and efficient addition to any kitchen.
View full details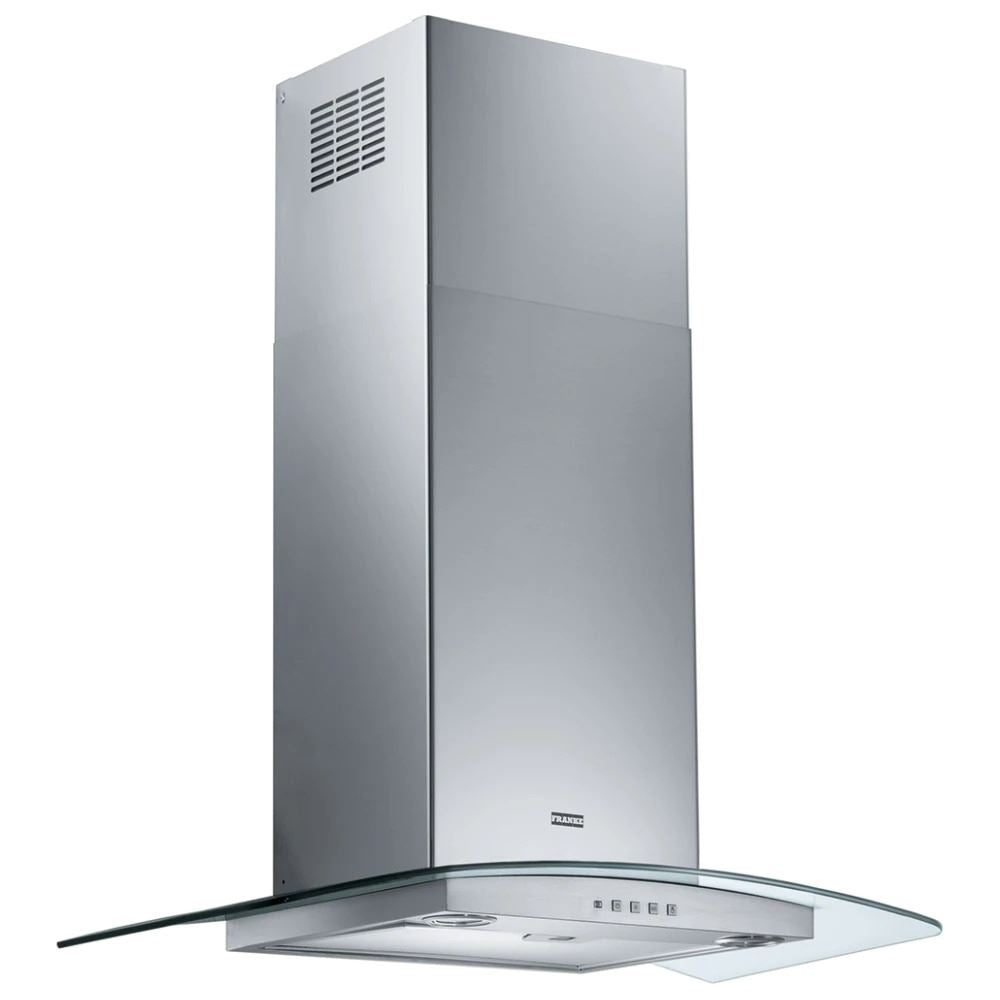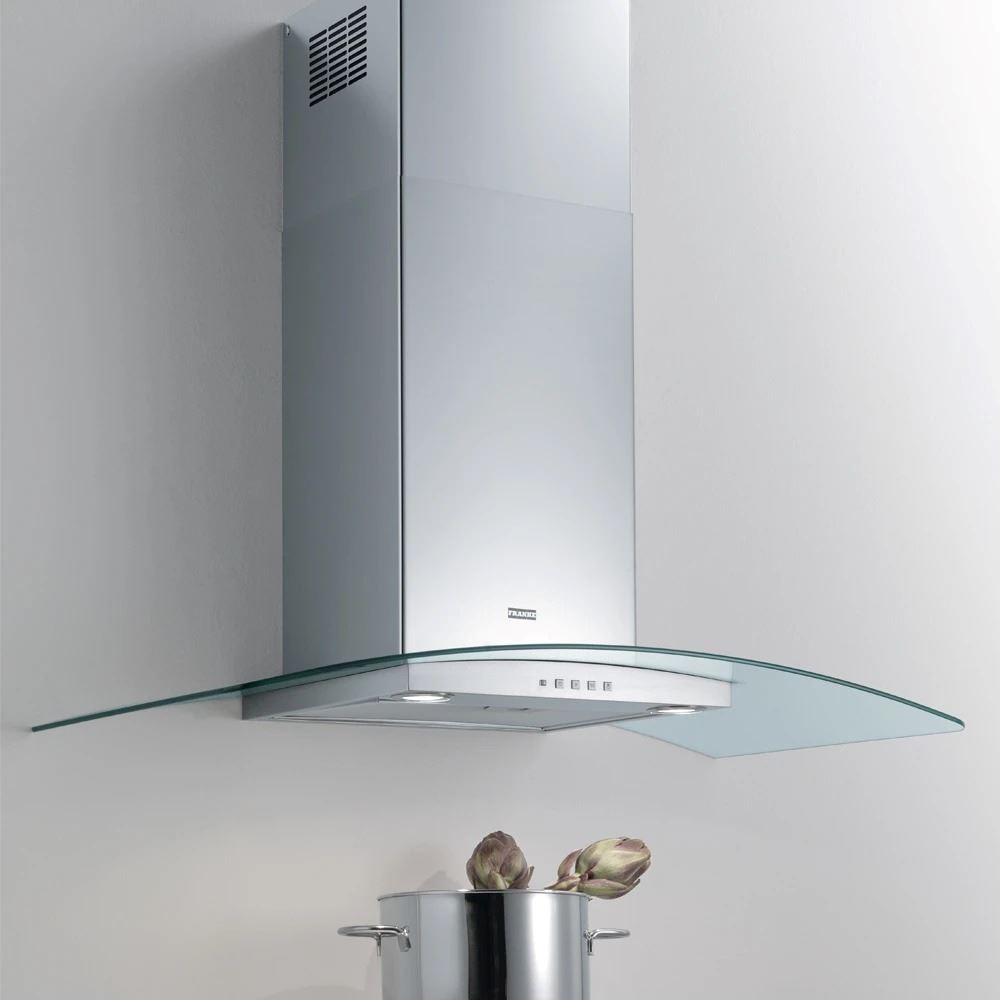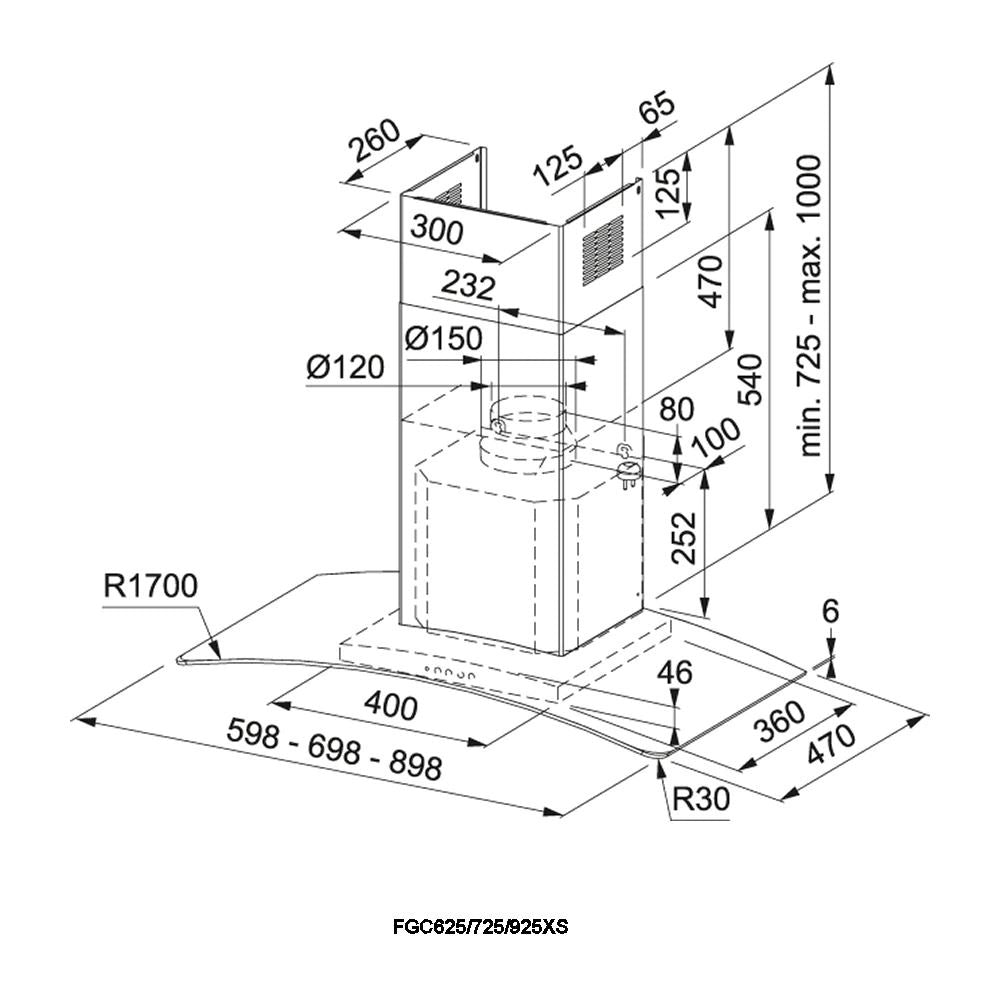 FRANKE T-GLASS RAY 60CM CURVED CHIMNEY COOKER HOOD FGC 625 XS NP - STAINLESS STEEL/GLASS
SUBHEADING
Recently viewed products