Montpellier MCF201W 199 Litre Chest Freezer in White
Flexible repayment options available
Choose weekly, fortnightly, every four weeks or monthly
Flexible repayment options available. Choose weekly, fortnightly, every four weeks or monthly  >> Click Here to APPLY   When you qualify for Finance, you can choose to pay your balance off in 4 months, over the full term, or call up and make early repayments. Whether you spread the cost over 4 or 36 months, you're in control. Pay in 4 - Should you pay off your balance in 4 months, any interest you owe* will be cancelled . *Interest is charged from the day your loan starts and will only be cancelled if you pay off the amount of credit advanced within the Pay in 4 Period. Minimum  Requirement 

Minimum 18 years old
Active current account that can accept Direct Debits
£200 weekly income
Resident in UK Valid Debit or Credit Card

Representative Example: Cost of Goods £1200, Deposit £50, Amount of Credit £1,150, Annual Fixed Interest Rate 34.04%, Monthly Payment £51.75, Term 36 months, Total Payable £1913.00, Representative 39.9% APR. Contact us

Email sales@conway.tv

Address 3 Park Ave, Cookstown BT80 8AH
Dimensions - (H)835 MM x (W)823 MM x (D)556 MM
Fridge to Freezer Conversion
Winter Safe -15'c
Removable Storage Basket
Adjustable Thermostat

This Montpellier chest freezer is the perfect solution for extra frozen food storage in your home. With a capacity of 142 litres, it offers ample space for bulky items that won't fit in your fridge freezer. This chest freezer can also be converted into a cooler for all your cooling needs. The counterbalanced lid makes it easy to access your food without awkwardly holding the lid up. The freezer can operate in temperatures as low as -15°C, making it ideal for garages and sheds. The low frost feature and drain hole make defrosting this freezer a breeze. The recessed hinge allows for easy transportation through doorways and saves space.
View full details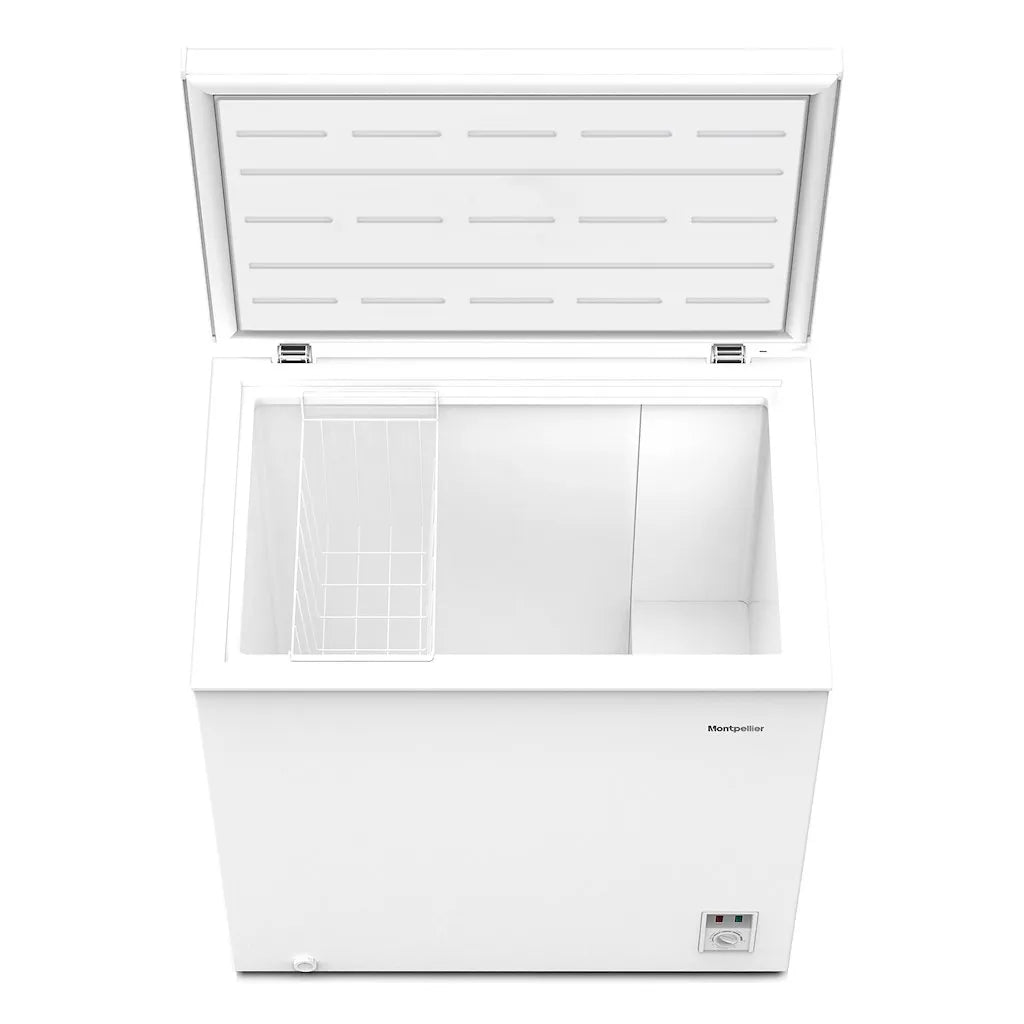 Montpellier MCF201W 199 Litre Chest Freezer in White
SUBHEADING
Recently viewed products