Montpellier MDOC50FS 50cm Double Ceramic Cooker in Silver
Flexible repayment options available
Choose weekly, fortnightly, every four weeks or monthly
Flexible repayment options available. Choose weekly, fortnightly, every four weeks or monthly  >> Click Here to APPLY   When you qualify for Finance, you can choose to pay your balance off in 4 months, over the full term, or call up and make early repayments. Whether you spread the cost over 4 or 36 months, you're in control. Pay in 4 - Should you pay off your balance in 4 months, any interest you owe* will be cancelled . *Interest is charged from the day your loan starts and will only be cancelled if you pay off the amount of credit advanced within the Pay in 4 Period. Minimum  Requirement 

Minimum 18 years old
Active current account that can accept Direct Debits
£200 weekly income
Resident in UK Valid Debit or Credit Card

Representative Example: Cost of Goods £1200, Deposit £50, Amount of Credit £1,150, Annual Fixed Interest Rate 34.04%, Monthly Payment £51.75, Term 36 months, Total Payable £1913.00, Representative 39.9% APR. Contact us

Email sales@conway.tv

Address 3 Park Ave, Cookstown BT80 8AH
Dimensions - (H)900 MM x (W)500 MM x (D)600 MM
Catalytic Self Cleaning Liners - Main Oven sides
Easy Removable Inner Door Glass
LED Minute Minder
Easy Clean Ceramic Hob Top

Introducing the Montpellier MDOC50FS, a contemporary 50cm Wide Double Ceramic Cooker in Silver. This freestanding model features four ceramic cooking zones, two ovens and a full width grill, making it a perfect addition to any kitchen. With six functions, including defrost, this cooker offers flexibility for your cooking needs.

The main oven has a 58-litre capacity and is a fan oven, with catalytic self-cleaning liners to make cleaning a breeze. The side opening door allows for easy access, and the oven has an interior light and two adjustable shelves. The top cavity is a 32-litre electric conventional oven and grill with an enamel interior, making it easy to clean. It comes complete with a grill pan and handle set and one shelf.

This model also features an LED Minute Minder and electronic clock, as well as rotary dials for easy temperature adjustments. It also has a residual heat indicator for added safety. The cooker's easy-to-clean features include catalytic liners in the main oven, enamel lining in the top oven, a smooth ceramic hob top, and removable inner door glass in both ovens.

The Montpellier MDOC50FS is available in three colors: white, silver, and black, and has an A/A rated energy efficiency. It comes with a two-year parts and labor guarantee, providing peace of mind.
View full details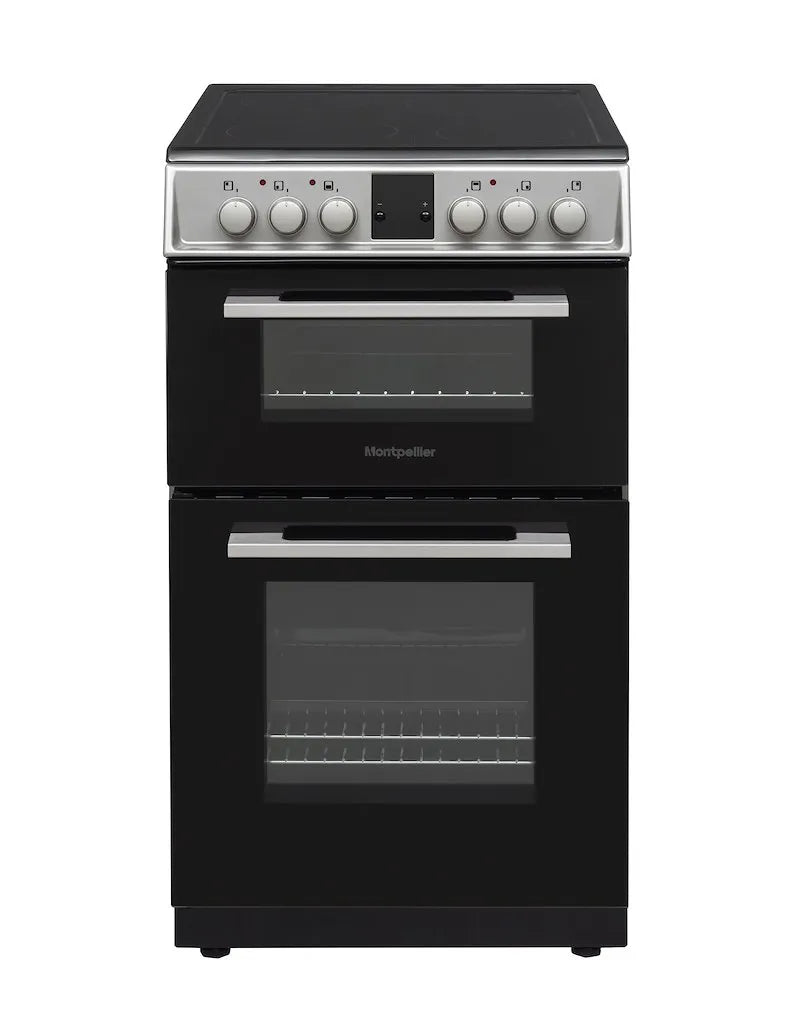 Montpellier MDOC50FS 50cm Double Ceramic Cooker in Silver
SUBHEADING
Recently viewed products